2020 is making it HUGE with the jewellery trends that are full of glamour, statement charm and drama.
From bold statement necklaces to minimalist picks, types of jewellery styles trending this year are giving us major goals and we just can't take our eyes off these trends.
Talking about which, here we are listing 12 types of jewellery styles that have won almost every woman's heart in 2020.
Are you ready to revamp your collection with the trendiest styles of 2020?
Let's have a look!
Types of Jewellery :
Abstract Art Jewellery
Hoop Earrings is an age-old trend that looks good with just about anything, especially with all sorts of your casual and work wear outfits. Being one of the most famous types of jewellery styles of 2020, hoops are bound to give you a delicate yet bold look.
Available in a variety of designs, this trend is all about winning hearts in 2020. Be it patterned hoops, open hoops, layered hoops, metallic hoops, hinged hoops, beaded hoops, statement hoops (the ones that come in really big sizes) or a pair of classic golden/silver hoops, we are so in love with this trend (and we know, you are too).
Whatever design you choose, hoops are one style that will always make you look gorgeous (without overpowering your look and cutting a hole in your pocket), now isn't that what every woman wants?
Temple Jewellery
Image: temple jewellery
Another style that has always been in the trend is "Temple Jewellery".
Be it a pair of earrings engraved with the figures of Gods and Goddesses or a necklace adorned with simple temple motifs – we've been obsessed with this trend right from the start. After all, the temple jewellery makes for a significant part of any Indian woman's jewellery collection.
Receptions, weddings, anniversaries, dinners or poojas – temple jewellery is perfect to be adorned on any festive or wedding occasion. This is why this style has always been able to make it to the top 10 famous types of jewellery in India.
So, stop thinking and add this gorgeous style to your collection (if you haven't already).
You can invest in a pair of silver oxidized jhumkas in temple style or a temple necklace engraved with the figure of Goddess Laxmi. Such styles will look fantastic for a cultural or religious occasion such as a pooja or mata ki chowki.
Go ahead and shop at www.zerokaata.com (The Best Online Jewellery Store).
Earcuffs
Ear cuffs are all things classy!
Out of all the different types of jewellery styles that are winning hearts in 2020, this one has already taken space in almost every woman's jewellery trousseau.
The best thing about this jewellery trend is that you don't even need a piercing for wearing most types of ear cuffs.
There are literally hundreds of designs available in the market. While some ear cuffs are just meant for the ears, others extend up to your neck or even your hair, now isn't that amazing?
So, if you don't have added earcuffs in your collection yet then do it right away.
Shop for classic Earcuffs at ZeroKaata (The Best Online Jewellery Store).
Jhumkas with Hair Chains
A combination of ear and hair jewellery is trending these days. Be it studded pins or a pair of classic jhumkas with hair chains, everything that makes your hair look pretty is gaining attention in 2020.
Everyone from celebrities to influencers and bloggers has been slaying this trend with utmost perfection.
You too can steal glances with this jewellery style. You can buy anything from a pair of jhumkas (along with hair chains) engraved with floral motifs to colourful Meenakari jhumkas hanging on the hair chains, adorned with Kundan stones.
Such styles are perfect to take your ethnic look up a notch. You can wear them with your lehengas, shararas, Punjabi as well as Afghani style suits.
So, what are you waiting for? Shop for jhumkas with hair chains and other types of jewellery styles at ZeroKaata, the best online jewellery store.
Sign up with us to get flat 15% off on your first order.
Abstract Art Jewellery
Abstract art jewellery is going big this season! So why wait? Defer the stereotypes with a mix of trendy bits!
Adorn yourself with the most amazing collection of abstract art jewellery at our online jewellery store.
These 9 to 5 workwear geometric sculpted handcrafted earrings are perfect to garner you the much-needed attention and compliments.
So get your hands on this flawless pair and get high on delicate fashion vibes.
Shop now and get an additional 15% off on handcrafted jewellery. Sign up to avail the offer.
Statement Chokers
Be it Deepika, Kareena, or Malaika, everyone seems to be enjoying this trend in 2020, so why can't you? After all, nothing's more attractive than a woman in a larger than life statement necklace choker.
So, go ahead and buy a beautiful statement choker for yourself. The best thing about this jewellery trend is that there are so many different types of jewellery designs available in chokers.
For instance, you can invest in a heavy Kundan choker that will look good with your ethnic outfits, a boho choker that will work well with your western and fusion looks or a contemporary choker that will help you to take your contemporary look up a notch.
Choice is yours!
However, make sure that you match the necklace with the neckline of your outfit. Imagine wearing a statement choker with a largely collared neckline. Definitely a No!
The neckline of your outfit plays a very vital role in making or breaking your statement style. Statement chokers are best paired with deep necks, V-necks, round necks and necklines.
Be careful while accessorizing your outfit!
Chunky Rings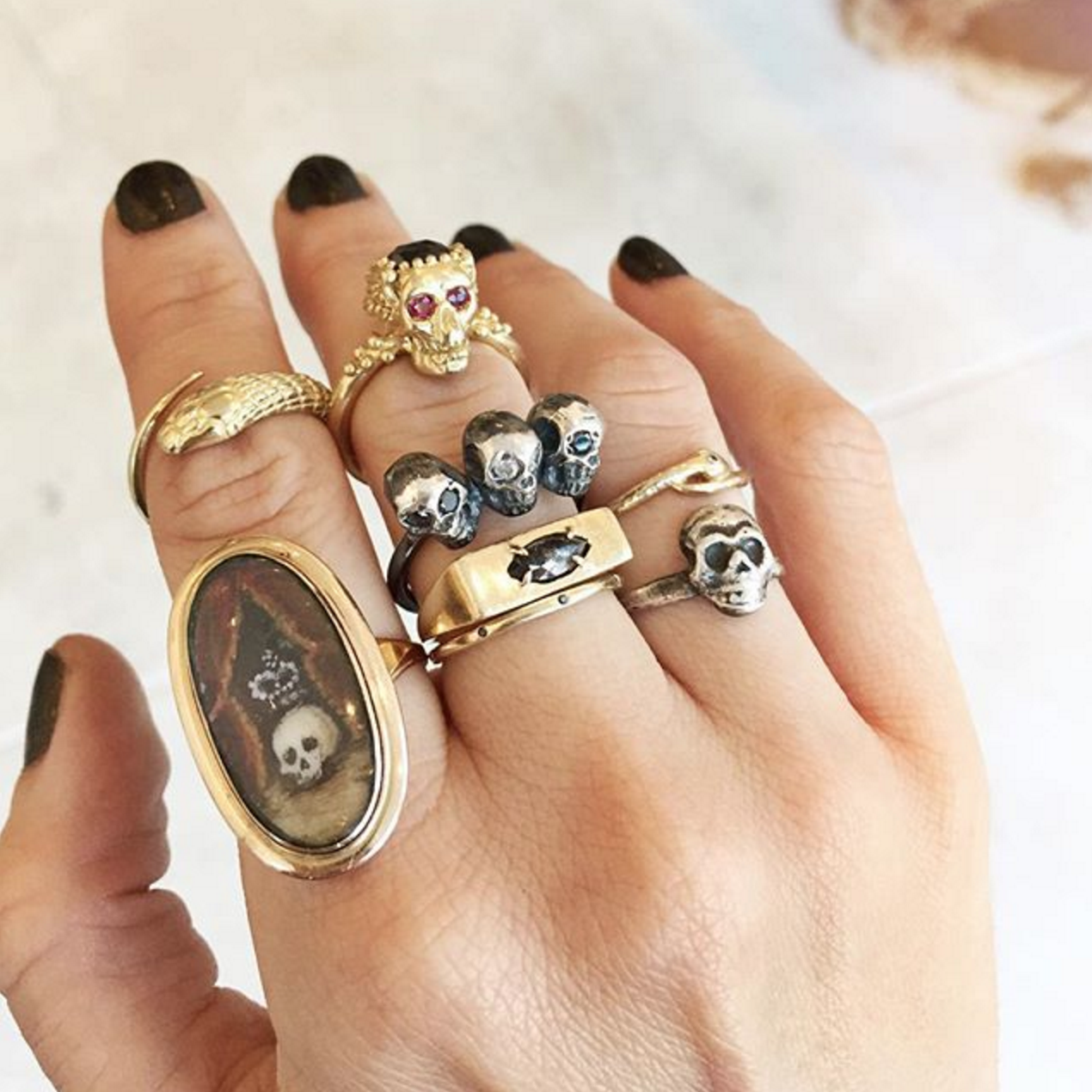 Picture Credits: https://glitterinc.com/
Top off your look with big chunky rings and slay with your sassy style. Chunky rings are the latest fashion trend and they can really polish your look.
Check out our statement-making chunky rings, perfect conversation starters that will definitely get you a lot of compliments.
We have a plethora of designs that are very stylish yet comfortable to carry.
So, girls! If you want to look out of the ordinary then don't shy away from stacking these beautiful rings.
Visit www.zerokaata.com (The Best Online Jewellery Store) and sign up with us to get flat 15% off on your first order.
Boho Maang Tikka
Once you've worn a boho maang tikka, there's no going back. The best thing about a boho maang tikka is that it can be styled for more than one occasion.
You can wear it with a simple kurta and jeans for a casual look or pair it with lehenga for mehandi or sangeet look.
Tassel earrings
Tassel earrings have been winning hearts since the day of their inception. The best thing about tassel earrings is that they're super comfortable to wear and they add a quirky appeal to your look.
With literally hundreds of designs available in tassel earrings, this trend will leave you spoilt for choice.
You can buy tassel earrings with feathers, colorful beads, ghungroos even tiny hanging jhumkas. The more the elements attached to the earrings, the better!
You can style them with all sorts of your western outfits, now isn't that wonderful?
Gemstone Encrusted Studs
Studs- the simplest yet high-on-impact jewellery style!
Gemstone encrusted studs look absolutely gorgeous and can be worn on any type of occasion with almost any kind of outfit.
Do you what the best part is? Actually there are 2 best things about stud earrings.
First, no matter your age, stud earrings will not just suit you but will also help you to garner tons of compliments by giving you a more defined look.
Second, there are a lot of varieties available in the market like studs embossed with semi-precious gemstones, simple studs encrusted with silver beads and crystals, and so forth. Whatever style you choose, these earrings are bound to give you the bold and beautiful look for sure.
You can wear them to the office and even to parties. Depending upon its size, you can style various looks with a pair of stud earrings.
Quirky Cloth Earrings
Last but not least, quirky cloth earrings!
This style comes in all sorts of material and designs-colorful earrings with a quirky name or quote (like Patakha kudi), earrings with a plain base but colourful cloth tassels, earrings with quirky figures (like a girl wearing goggles), etc.
The best thing about cloth earrings is that they are very lightweight and there are literally hundreds of designs available in the market.
Go ahead and make your pick!
So, ladies! These were the different types of jewellery styles that are trending in 2020.
All these styles are a must-have for every woman. Stunning yet classy, these styles are sure to paint your look with glamour and style.
Which of these styles do you already have in your jewellery collection? Tell us in the comments below!